5 Top Reasons to Shift to Artificial Grass in South Florida
Have you marveled at how lush and green the grass is in sports stadiums? They are made of artificial grass in South Florida. Artificial grass is fast gaining ground as an alternative to real grass in the residential setting.
Many homeowners are now shifting to artificial grass because they do not need to be watered, fertilized and mowed while looking natural enough to fool anyone they are real.
What is Artificial Grass?
Artificial grass is a man-made material (synthetic). It is made up of synthetic fibers that are cut and dyed to feel and look like real grass. Artificial grass was originally made exclusively for
commercial use such as in sports stadiums. Today more and more residential gardens are made of artificial grass.
flic.kr/p/Jhd5jd
Come in synthetic (often polyethylene or polypropylene) green grass blades. Some artificial grasses are made from natural cork or even recycled rubber tires.
Available in various pile heights, colors and styles. New technology has allowed artificial grass to also come in a brown thatch to mimic dead grass normally seen in real grass gardens.
Comes with a solid backing where grass blades are machine stitched. Made in the same manner carpets are made.
Comes in several layers including a backing, infill, cushioning and drainage layers.
Artificial grass first made its appearance in the Houston Astrodome in 1966. The owners were miserably unable to grow real grass in time for its 1965 inaugural season. Halfway through the season the grass looked so terrible they decided to install artificial grass.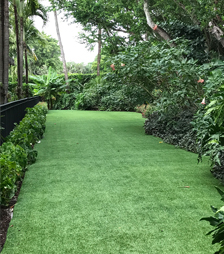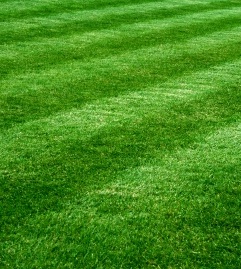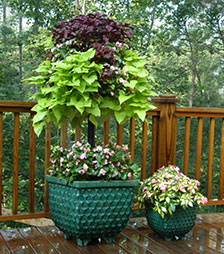 Reasons to Consider Artificial Grass
Artificial grass provides a lot of benefits to homeowners making it a viable option to real grass.
1. Artificial grass has a long lifespan. While real grass may die, artificial grass can last for more than twenty years.
2. Artificial grass does not grow. Once installed, artificial grass will remain always green and in its original height. You no longer need to regularly mow, apply weed control and
pest control products as well as fertilizer. Lawn mowers are a thing of the pass with artificial grass.
3. Artificial grass does not need watering. Real grass needs about 55 gallons of water per square feet every year to grow nice and green. Artificial grass does not need a drop of
water to grow nice and green. This can give savings on water bills and man hours required to water real grass.
4. Great for pets. Cats, dogs and other pets adore playing in the garden. The thing is they tend to mess up the grass and carry mud and dirt back to the house. With artificial grass
your pets will love to roll and stretch around the garden they will not even notice the difference. Your pet's toilet time will also not be a problem with artificial grass. Artificial grass is
porous thus pet urine will easily drain through and feces can also be easily removed. Artificial grass will not stain and will remain undamaged after an effortless clean.
5. Environment friendly. Since artificial grass do not need fertilizers to keep it healthy and looking green, you can keep these harmful pesticides out of your home. Pesticides are
not only harmful to the environment but are dangerous for kids and pets. Water contamination caused by these pesticides being carried by water to the drain is also avoided.
Artificial grass may be expensive to install but if you factor in all its benefits, it is worth the investment.
Qualities of Good Artificial Grass
There may be no substitute to real grass but if you want to have a hassle-free lush and green garden, artificial grass is your best option. If you want to get the most out of your investment,
here are the qualities you need to look for in good artificial grass. A good quality grass will dictate how long the artificial grass will last.
UV Protection. Your artificial grass needs protection from the sun so it will always look green. If not treated with UV protection, artificial grass may turn white or blue and it may fade.
Pile Height. Make sure the pile height refers to how long each grass blade is when measured and not the total height of the artificial grass including its backing.
Backing. The backing should be a woven fabric made from polyurethane and never latex. The backing should be reinforced by extra layers or weft threads. The quality of the backing dictates the stability and resiliency of the artificial grass to various weather conditions.
Gauge. Artificial grass should be stitched to its backing in a straight line. The gauge or distance between the lines should not be large as it will give the artificial grass an awful look.
Stitch Rate. This refers to the number of stitches per square meter. The density of the grass is the combined quality of its gauge and stitch rate. Good quality artificial grass comes with a high density. Low quality artificial grass usually has a density of 6,000 stitches per square meter.
Dtex. This refers to the weight of the artificial grass in relation to its height. High dtex translates to a durable and long lasting artificial grass.
It is also wise to make sure that the artificial grass you choose is lead-free. Artificial grass comes in strips so other than checking on the quality of the artificial grass, you also need make sure it is properly installed. A properly installed artificial grass should have hidden seams. There should also be no gaps between lawn and the borders of the artificial grass. Artificial grass in South Florida closely resembles the looks and feel of real grass minus the hassles of care and maintenance.