7 Things to Consider When Creating Residential Landscaping South Florida
Residential landscaping can be an astounding project to implement. There just are so many details to take into consideration before the actual planting and installation can begin. Knowing
what you want, who to work with and what you are going to be working with will make the residential landscaping South Florida task a lot easier.
Residential landscaping is the process of enhancing the appearance and visual appeal of the outside space surrounding your home. Many people define it as a work of art.
Residential landscaping is the first impression a visitor will have of your home. Your residential landscaping should be attractive, welcoming and functional for the enjoyment of your family and to improve the value of your property.
The landscape of your home is a reflection of each and every member of your family. It should not only be aesthetically appealing but should also be functional. When in the process of creating a residential landscaping design, there are certain things you need to consider.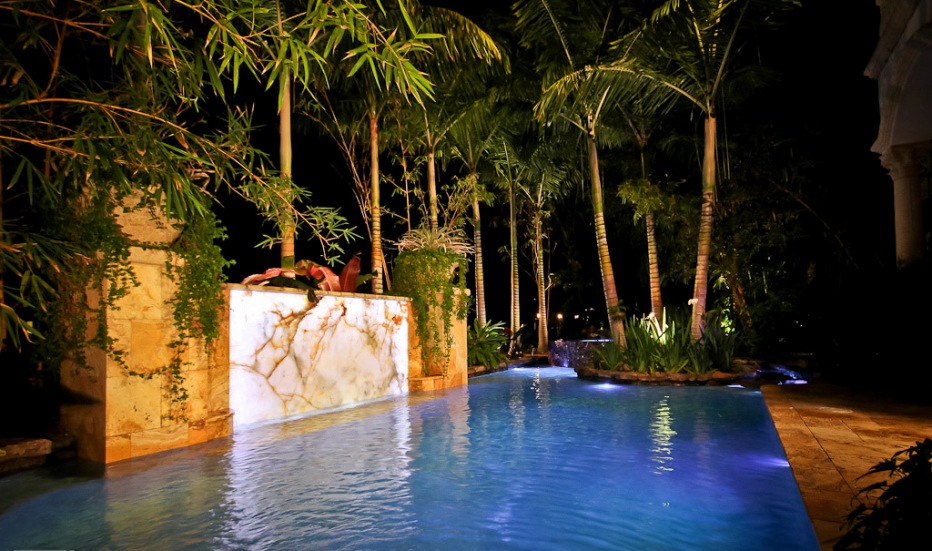 1. Know the Footprint of your Property
Before planning on a landscape design you need to have a clear picture of what you are going to be working with. You should be aware of the following details:
Shape of your property
Topography (water drainage)
Climate
Soil type
Microclimate ( shady and sunny areas)
Wind direction
Existing features (tress, fences, hardscapes and other infrastructure. Take note of what can still be used and what to discard and change.
2. Know How the Space is Going to be Used
Determine who will be using the space and how it is going to be used. You can create various spaces in your yard for different purposes with the use of softscapes (plants) and hardscapes
(structures). Outdoor spaces can be used for:
Cooking
Dining
Entertaining
Gardening
Playing
Relaxing
Swimming
3. Decide on a Theme
A definite theme can serve as a guide when choosing plants, structures, hardscapes and decorations for your residential landscape. Let your home's architecture be the starting point
when deciding on a theme for your landscaping. The style and lines of your landscape should complement that of your home because your yard will be serving as an annex of your home. It is also important to create links between spaces for the smooth movement within the landscape.
4. Choosing the Right Plants
It is important to determine the function of plants in your landscape. Plants can be used to provide beauty, aroma fresh vegetables and delicious fruits. Plants can also function as barriers
to define a specific space. Plants planted in the right places can alter the conditions of your yard. Temperatures and wind directions may change based on where plants and trees are planted. Water features and physical barriers can also affect the noise in your yard. When choosing plants, make sure you take into consideration their rates of growth and
maintenance. Plants should have enough room to grow to their mature size.
5. Think of Functionality
Landscaping should not only be beautiful, it should be functional as well. Plants and trees should not be blocking the view to your yard from the inside of your home. The roots of trees
should also not get in the way of your home's foundation. Walkways should be in the right direction so as not to derail the grass.
6. Provisions for Irrigation and Maintenance
Plants need water and the right maintenance for proper growth. Where to install the irrigation system should be included in the landscape design and should be installed at the same time as
the other features. Installing the irrigation system after all the features have been install may affect the curb appeal of your property.
7. Pay Close Attention to Visual Details
Plants and all features you plan to include in your landscape design each have their own unique visual details in terms of textures, colors, shapes and sizes. A good landscape design should be
able to contrast and complement each of the features. Scents and fragrances of flowers should also complement each other.
Residential Landscaping Design
Residential landscaping design should be designed to benefit people. The most aesthetically appealing, pleasing, functional and efficient residential landscape should be created to meet
the needs and wants of the people who will be using and maintaining it. More importantly, residential landscaping design should improve their quality of life of its users.
In creating the plant design of your landscape it is important that plants are in synch with the existing conditions of the environment. It should also have the visual characteristics of form,
size, color and texture to contribute to the aesthetic and functional qualities of the landscape design.
The most common form or shape of plants is rounded (such as the lilac) and spreading (such as the cotoneaster). The color of plants such as that of flowers, leaves, fruits, bark and branches
should also be taken into consideration. While green is the most predominant color, it undergoes seasonal changes. Textures which are the smoothness and roughness of plants are
more visual at close range. These plant characteristic should be taken into consideration when creating the landscape
design. Plants with the same characteristics should be grouped together. The principle of rhythm and repetition in the plant design are achieved when plants with similar characteristics
are used and repeated to create unity and recall. While there are a couple of things to consider when creating residential landscaping South Florida, topmost in your mind is knowing what you want or having a vision of how your landscaping is going to look like. With the right strategies and tools, the assessment, planning, and implantation of the landscape design can be effectively carried out on your own or with the help of professional landscapers.