The tropical climate of South Florida makes swimming pools usable almost all year round. Almost everyone loves a home with a swimming pool. The fun activities the kids can have in the swimming pool during summer and the relaxation a dip can give adults are the greatest appeals of South Florida swimming pools.
The value of swimming pools has gone beyond the usual to the extraordinary. Some years ago, swimming pools have been considered part of a luxurious lifestyle. Today a swimming pool has increasingly become an essential part of a South Florida home because they now considered as a means of extending the main living area.
Many homebuyers today have made a swimming pool a major concern when choosing a home in South Florida. The use of the swimming pool has evolved from simply being a playground for kids to becoming an entertainment area ideal for events, parties and gatherings. Many homeowners do not only concentrate on the swimming pool but also on the other elements that go with it. These elements include waterfalls, fountains, outdoor kitchens, gazebos, dining areas, showers and other similar features.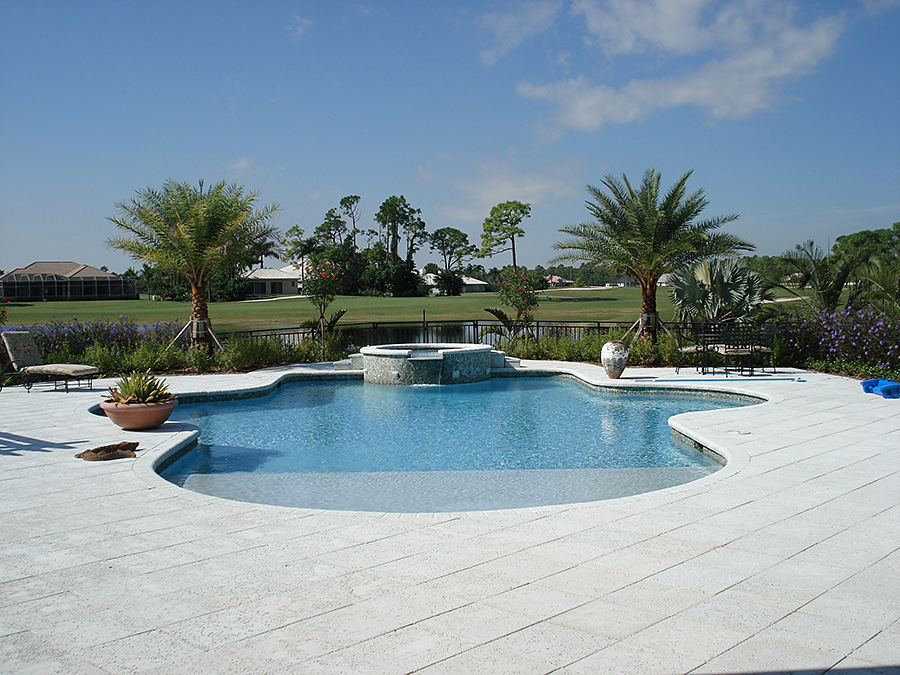 Aesthetic Benefits of Swimming Pools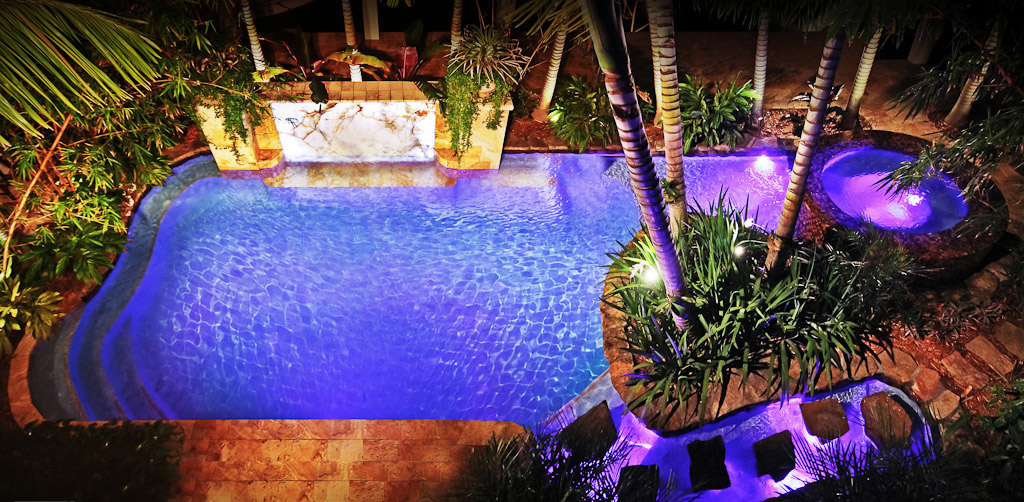 A swimming pool does not only function to help you beat the heat. A swimming pool is a good investment because it can increase the resale value of your home.
Aside from its recreational appeal, a swimming pool comes with a built-in aesthetic charm. The charm and beauty of a swimming depends on its design and construction and of course on how well it is maintained. It is therefore of utmost importance to consult a professional swimming pool contractor when deciding on the design, materials and equipment for your pool.
Before installing a swimming pool in your property, here are a few things you need to consider:
Your swimming pool should have a modern design and give your home a fresh new look.
Your swimming pool should complement the design and style of your home.
Your swimming pool should be made with up-to-date mechanical parts for efficient
function and easy maintenance.
A beautifully designed swimming pool will provide your South Florida home with a lot of
aesthetic benefits. Adding to the aesthetic beauty and resale value of your home is not all you
can gain from having a swimming pool. There are more to swimming pools that meets the eye.
In a tropical area such as South Florida, you can enjoy your pool almost all year round. When it gets a bit cold a heating pump can be an important addition.
Increases Strength and Stamina
Doing a few laps on the swimming pool will work both your primary and secondary muscles. You work more of your muscles swimming than you would when lifting weights in the gym. Swimming therefore is one of the best forms of exercise for strength and stamina building.
Relieves Mental and Physical Stress
There is nothing more therapeutic than gazing on the swimming pool with the moon reflecting its shine on the water. Swimming is able to reduce anxiety and stress. Taking a quick dip on the pool is a great way to release all the tension and stress of the day.
Swimming refreshes your mind and makes you feel good about yourself. It is overall, a feel good form of exercise. Since swimming is a low impact exercise it helps you reduce all of your physical stress.
Swimming is one of the best ways of improving your cardiovascular health. Since swimming is a low impact exercise you can do anything from a few laps of backstroke to a higher energy butterfly stroke without straining your body too much. Swimming is able to enhance your cardio endurance in the same way as running without any risk of injury as compared to running.
Good for Low-Impact Exercises
Swimming is an excellent alternative to jogging and running. It does not place too much strain on the body but is nevertheless a good form of exercise especially for people with sore joints and arthritis.
Most homeowners in South Florida have busy lifestyles. Just like most of them, you may find it such a challenge to remain fit amidst your busy business and personal schedules. Having a swimming pool in your home will provide you a convenient venue to exercise, entertain family and friends as well as have a private haven to relax and escape the hustle and bustle from a busy lifestyle.
Best Swimming Pool Materials
There are several swimming pool styles and new technologies that make the installation of a swimming pool a breeze. Many homeowners are realizing that the very issues that have kept them from installing a swimming pool in their homes are no longer issues today.
If you are planning on installing an in-ground swimming pool in your home you can choose between vinyl, gunite or fiberglass. The swimming pool contractor will assess your property and suggest the feasible shape, material and size.
When you are deciding on the foundation of your swimming pool, try to visualize how each material will look when the pool is already with water.

Choosing the Best Style
There are more options available today when it comes to styles, shapes and sizes of swimming pools. As you have read above there too are more benefits to having a swimming pool in your home.
Gone are the days when swimming pools only came in a rectangular shape. Today you can have your own customized shape and size to fit into your property and personal preference.
Smaller styled lap pools are ideal for those who need a swimming pool for exercise and
other health benefits of swimming such as water therapy.
Sports pools with shallow depths on both ends are ideal for water sports.
Pond-style pools can function as an aesthetic component of a landscape design.
Swimming pools can be designed to be a part of a complete outdoor entertainment area
which may include a gazebo and an outdoor kitchen.
Any swimming pool style will surely provide great benefits depending on what you need from a
swimming pool.
Your home is one of the biggest investments you will ever make in your lifetime. A backyard swimming pool will add beauty and value to your home. South Florida swimming pools are wise investments that will offer you and your family many returns as well as valuable and countless memories.