How to Create a Successful Hardscape Design in South Florida
Hardscape features can convert your backyard into an outdoor living space of your dreams. Hardscapes are also an essential part of your overall landscape design. It is therefore essential that you know how to create a successful hardscape design in South Florida.
A landscape design is composed of two major elements: hardscape and softscape. Hardscape refers to the hard stuff installed in your yard. Softscape on the other hand refers to the growing stuff. Simply put, hardscape is non-living while softscape is living.
A well-designed landscape is able to strike a good balance between the hardscape and
softscape.
Hardscapes are structures incorporated into a landscape design. They are made of hardwearing materials.
When implementing the landscape design, the hardscapes are the first to be installed because they will somehow alter the yard's foundation. When the hardscape installation is completed, the softscapes such as tress, floral arrangements and shrubs are planted to perfect the color schemes.
Hardscaping involves the building and installation of structures amongst the natural aspects of your yard. They are meant to compliment the beauty of the land while at the same time providing a lot of functionality.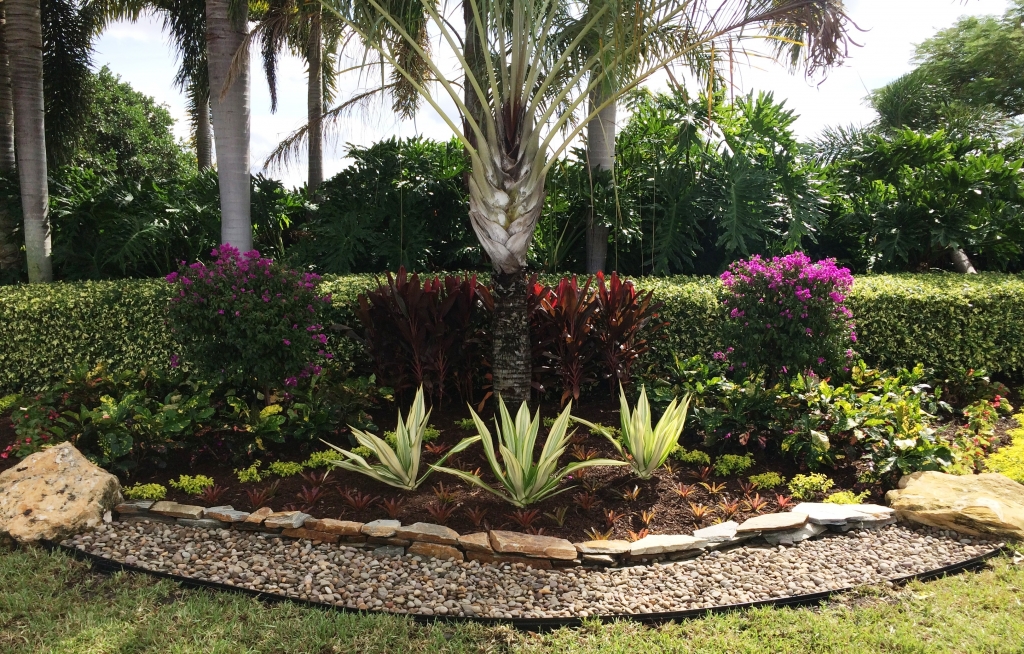 Some of the common hardscape features include:

Walkways made from stone or gravel
Stairs
Edgings
Patios made from concrete, bricks, flagstone or tiles
Gazebo made from wood and or masonry
Pergolas
Arbors made from wood
Decks made from wood
Retaining walls
Fences made from PVC, wood, or wrought iron
Outdoor fire pits
Outdoor fireplaces
Outdoor kitchens
How to Create a Hardscape Design
Hardscapes are captivating landscape features that provide a lot of attractive features. As soonas you have decided to build an outdoor space you must carefully plan your hardscape design.Careful planning of your hardscape design is extremely essential because these are fixedstructures that are not easy to move.
Here are some tips on how to create a successful hardscape design in South Florida. Following these basic tips will help you create a hardscape design and installation you will love and enjoy for years.

The elements you use in your hardscape design should fit naturally and not stick out like a sore thumb. The elements need to have a natural feel. The best way to do this is to use curves, lines and shapes in such a way that the elements shift smoothly into the other elements of the landscape.
Design for the Entire Area
Before you start with your hardscape design, consider the entire area you have. It is best to plan for the entire area even if you are only going to work on one space at a time. Planning for only one space may hinder any plan you may consider in the future. It may be difficult to decide building a barbecue when there is an existing patio in the way.
Your hardscape design should have a smooth flow. From the entry point the eye needs to travel towards a final destination.
Choose the Right Materials
The materials you choose for your hardscapes should coordinate with each other and also with the interiors and exteriors of your home. You can opt to have at the most two textures. Anything more will make your landscape look messy. If you are having a flagstone underfoot, your wood deck should include bricks or one type of stone. Your hardscapes can be formal or relax but the best hardscapes are the ones which have a distinct style.
There are some areas where they have to contend with hardscapes minus the greenery because of the scarcity of water and the strong sun. In South Florida, your hardscapes should always be complemented with sufficient vegetation. You can have a hardscape that is surrounded by flowerbeds and shrubs but grass is always a good idea.
How your hardscape design will affect the drainage requirements should be taken into consideration. Will placing a patio or wall in a particular area affect the drainage system? Neglecting drainage requirements is one of major reasons many hardscapes get messed up.
Always Involve the Experts
The very first step in creating your hardscape design is to get in touch with a landscape designer. This professional will not only help you design beautiful hardscapes but ones which are safe and will not create any serious damage to your landscape.
The landscape designer will put into action your ideas, what you want to see in your yard and what you do not want to see.
It is important that when you choose a landscape designer you opt for one that will give importance to your desires instead of guiding you to embrace ideas that is profitable for them.
Some Popular Hardscape Design Ideas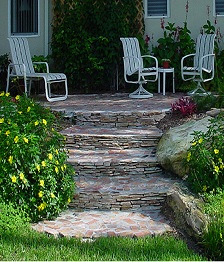 Before making the final decision check out some of these popular hardscape design ideas to get some inspiration and set your creative juices to work.
A rustic appeal combining a wood plank fence along with concrete benches and planters
together with a fire pit.
Greenery surrounding a wood deck creating an organic environment.
Mimic an Italian countryside by placing wooden planks over grass complemented with a
rustic L-shaped sofa and a couple of candle lanterns.
Build a Japanese Zen garden with alternating wood and stone tile flooring together with
borders made from wood planks.
There are countless materials available for hardscape Design in South Florida to suit every style
and budget. It is important to remember that creating the landscape of your dreams involves
proper hardscape design